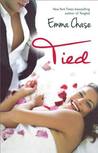 Tied
by
Emma Chase
My rating:
4 of 5 stars
See my review on the
blog
too.
The Tangled series is one of the few that made me laugh, love and hate the male character at the same time.
Don't get me wrong. I really like Drew because of his crazy antics and yet, beneath that is a person truly whipped. Throughout the series, the author never veered away from how Drew really is.
That is why, seeing Drew's devotion to Kate strengthen over time and not immediately truly suggested that he matured (even a little) yet still retained his charm that drew the readers to him.
And also, reading about their son, James, just hit the right shingle in my heart. He is such an adorable kid! If you've read the Chocoholic series by Tara Sivec, I can just imagine James and Gavin being best buds (if ever they were born on the same year). That is why, a novella with the kids would be extremely nice.
Gah! I really want to read more about them but I must say, Tied is a real good end to this series (though I am really hoping for a novella *fingers crossed*)
View all my reviews